Ron Dante OnLine – The Official Website.  See what "Archie" has been up to.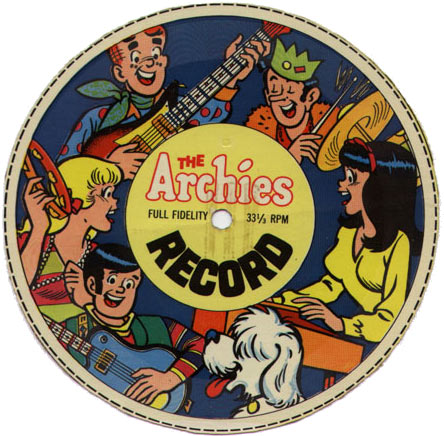 This is a photo of the first record I ever owned. Well, co-owned. It was cut off the back of a box of Post Sugar Crisp cereal and I'm sure all five of us kids claimed equal ownership. We had several of these, but I only really remember hearing "Bang Shang A Lang" and "Sugar Sugar".
This was around 1969 and Archie was big in comic books and there was a Saturday morning T.V. show which featured "The Archies" band and their music. The link at the top of this post is to the Website of Ron Dante, the singing voice of Archie. He had, and continues to have, a very interesting career in the music industry. Had singing for Archie been his only accomplishment, it still would have been a very fine accomplishment. "Sugar Sugar" was the number one single for all of 1969 beating out an awful lot of acts including The Beatles, who I seem to recall as having a career on par with The Archies.
Though I never met or spoke to Ron Dante, I almost worked on a comic book project with him. That's a story for another day.