I recently blogged about how nice it is to see some things remain unchanged. We just got in a whole assortment of the Guillows balsa wood gliders and propeller powered planes.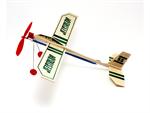 As far as I can tell, these haven't changed one single bit. We sell about a hundred every summer to young and old alike. The utter simplicity of this toy is genius. I loved flying these as a kid, but I always and I repeat always, made the same two mistakes. As I recall, I wasn't a particularly stupid child, but despite the fact we lived next to a giant open field, I always managed to get my glider stuck in a tree in our back yard. My other perpetual tactical error involved the rubber band powered propeller models. I figured if I wound the prop up really tight that thing would stay up in the air for at least a half hour.
Alas, rather than a trans oceanic flight, I usually ended up with a snapped rubber band or worse yet, a shattered airplane. Those who fail to learn from history are destined to repeat it. My flight failures may have been the first of my life long attempts to continuously repeat the same failures hoping for a better result. Let's see. I have tried to earn a living at retail for over thirty years now and have tried to break into the comic book industry as a writer for the same amount of time. Neither has proved to be overly successful, but on whole, I guess it has not been the abject failure of my crushed airplane.
Just like some toys, stubbornness will never go out of style. At least, it won't for me.